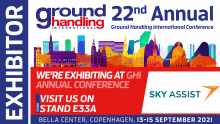 Sky Assist will support airline industry slow recovery by exhibiting at annual Ground Handling International conference that will exceptionally take place in September (from 13 to 15th) at Bella Center in Copenhagen.
Please make sure to visit our stand E33A.
The industry has lost manpower and knowledge. Lost & Found departments have been heavily impacted. Complex systems and procedures, expensive agents and floor spaces imply that many companies have been in danger with Covid crisis.
Sky Assist can help staring back operations at lower costs with minimal investments by presenting new products on top of existing BagAssist product in place for assisting agents in Lost & Found operations : BagProcess for fully automated decision baggage handling on tablet by low-level skilled staff and new kiosk application in responsive design for declaring delayed and damage bags. SBA responsible will also be present on the stand for sharing experience using these new tools with you.
I look forward meeting there. Luc